Find the perfect mobile house for your leisure time! The various forms of summerhouses for those who want to be exclusive and spend their free time in the place of their choice. Mobile homes are lovely in the way that it can be brought where you want them. Each mobile house is manufactured individually according to the customer's order. If you are not sure what kind of house you want or you just want to ask some questions, feel free to contact us!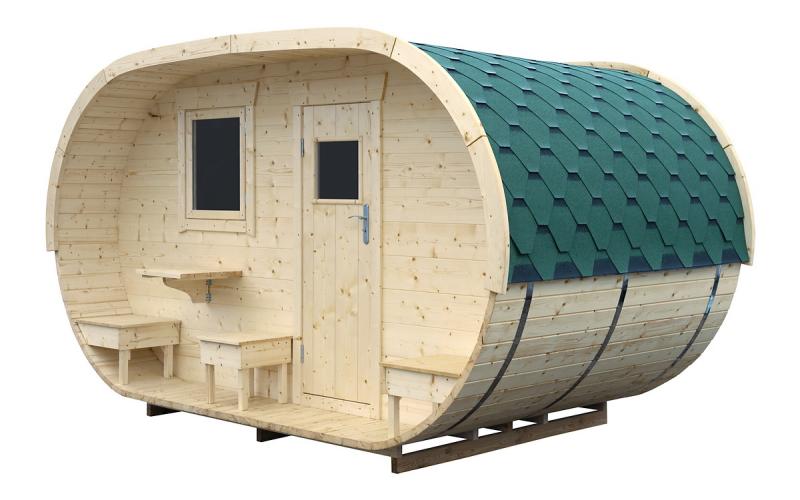 THE SUMMERHOUSE
The general understanding of summerhouses is that it's a house designed for living in in the summer when it is warm enough. We offer a broader view of this building.
Mobile wood summerhouses can be up to 6 meters long and 2.5 meters wide. They can be insulated, can have electricity, furnishings and other accessories. In the absence of space it is possible to place several houses side to side. The construction of a house does not require a foundation or building permit, a stable and solid foundation is sufficient. The summerhouse can be transported while fully or partially assembled. If necessary, you can move the building to another location. This type of house can be classified as a modular building, as a large part of the floor and walls is assembled at the factory, and everything just needs to be put into place. Our summerhouses can be built in camps, gardens, kindergartens, can be used as guest houses, etc.
Insulated summerhouses will keep warmer for longer.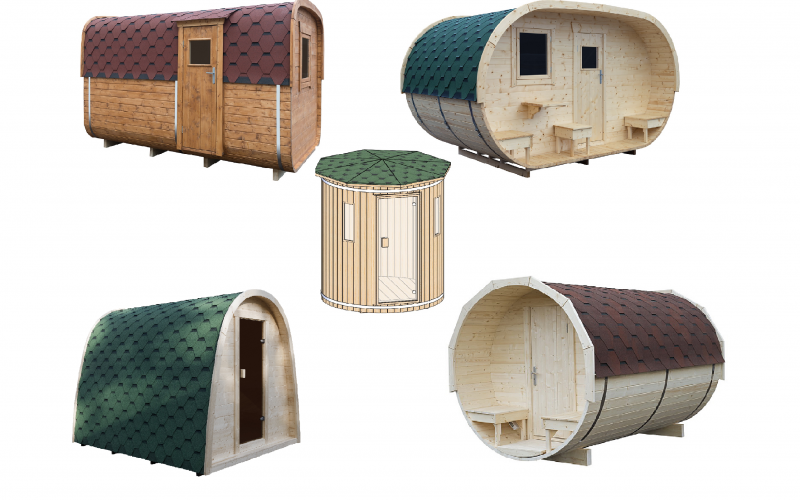 MODELS
We created an entire family of mobile wood summerhouses. They come in the following models: POD, BARREL, OVAL, VERTICAL and BOX. Each model is a distinct form that matches its title. The capacity and layout of each one is also distinct, so it is necessary to think carefully about the interior design in order to practically utilize the available space.
---
Our summerhouses are a natural wood product that is completely environmentally friendly. The roof is covered with bituminous tiles. The outside walls are coated with protective substances from the outside. Exterior wall coverings can be burned with fire, which creates a spectacular look, and the burnt surface creates a natural protective layer for the wood. We recommend to seal the wood in a natural way. Wood is a natural biocompatible that needs protection from sunlight and moisture. If not protected, the wood will darken, splinter and lose its good appearance. Siberian fir wood is used in the production of our summerhouses.
---
The summerhouses are all the same width and height, only lengths and number of partitions are different. Round summerhouses are an exception as the diameter is measured. Standard house dimensions:
WIDTH x HEIGHT x LENGTH:
POD - 2,4 m x 2,55 m x 2m / 2,4m / 3m / 4m / 5m / 6m.
BARREL - 2m /2,2 m diameter x 2m / 2,4m / 3m / 4m / 5m / 6 m.
OVAL - 2,45m x 2,5m x 3,m / 4m / 5m.
VERTICAL - 2m diameter x 2,5m.
BOX - 2,2m x 2,55m x 2m / 2,4m / 3m / 4m / 5m / 6 m.
HOW ELSE CAN BE USED SUMMERHOUSE?
We looked at our mobile homes from a different perspective - they can be used not only as a summer house, but also as a few more places.
---
Summer (and not only summer) residency. This mobile house can be built in the garden, by the lake; wherever you have the opportunity. The interior can be installed without restrictions, the exterior as well. There is total freedom to decorate your home with the accessories you want (lamps, decorations) and to fit in with your existing exterior. Because it is possible to insulate all mobile homes, it is not limited to the summer house - it can be used in autumn and spring.
---
Storage room. If you run out of space in your home, your mobile home can become a pantry. A VERTICAL summer house would be the most suitable for it. Built without inner benches and fitted with shelves, the summer house will fit perfectly into smaller appliances and household items.
---
Office. Moving office or office just in the yard? Everything is possible. The POD and BOX mobile home would be most convenient for this. Once the wiring is done, the desk, chairs, cabinets inside will turn the mobile house into a real office. As additional rooms can be installed, several people could work here.
---
Fitness room. The BOX-shaped house is very spacious and can accommodate anyone, even a mini gym. Bringing in a few stationary exercise equipment, such as an elliptical trainer or a bicycle, allows you to exercise calmly while looking at the beautiful view. After all, the mobile house can be built anywhere, not only in the yard but overlooking the lake!
---
Bathhouse. We already have an implementation for this. We produce mobile saunas of the same shapes as summer houses. Saunas differ from summer houses only in that one room becomes a sauna with sun loungers and a heating stove. How a few small details can change the whole purpose of a structure.
---
And these are just a few of the uses!